As technology progresses, organisations are under increasing pressure to upskill and equip staff with the necessary skills to thrive in the modern workplace.
Learning and development of individuals is rated as a key challenge organisations have to engage with. Opportunities for workplace learning are also crucial to both engaging employees and retaining them in the long-term.
Higher-order thinking skills, such as innovating, creating and critical thinking, are now in high demand, and this trend will continue as the need to develop new products, ways of working and technologies increases.
Despite this, there is a significant gap between the skills students are leaving school with and those necessary to make an impact in today's working world.
The current structure, composition and delivery of learning has an important role to play in this, particularly in the types of skills students are encouraged to develop. In schools, there is little time allocated for a focus on the creative, divergent thinking organisations need to remain competitive.
In this article, we are going to explore higher-order thinking skills and the benefits of teaching employees to develop them.
What are higher-order thinking skills?
In order to understand the different thinking skills people can draw upon for learning and work, Bloom's Taxonomy is a useful place to begin.
Developed by Benjamin Bloom and his team in the 1950s, learning and development professionals continue to implement the research, and it is as relevant today as it was then.
In a recent GO1 article, we looked into how learning and development professionals can use the taxonomy to choose engaging learning content.
The following diagram shows the ranking of different thinking skills in the taxonomy, with higher-order thinking skills such as designing, building, constructing, producing, inventing, judging and critiquing appearing at the top: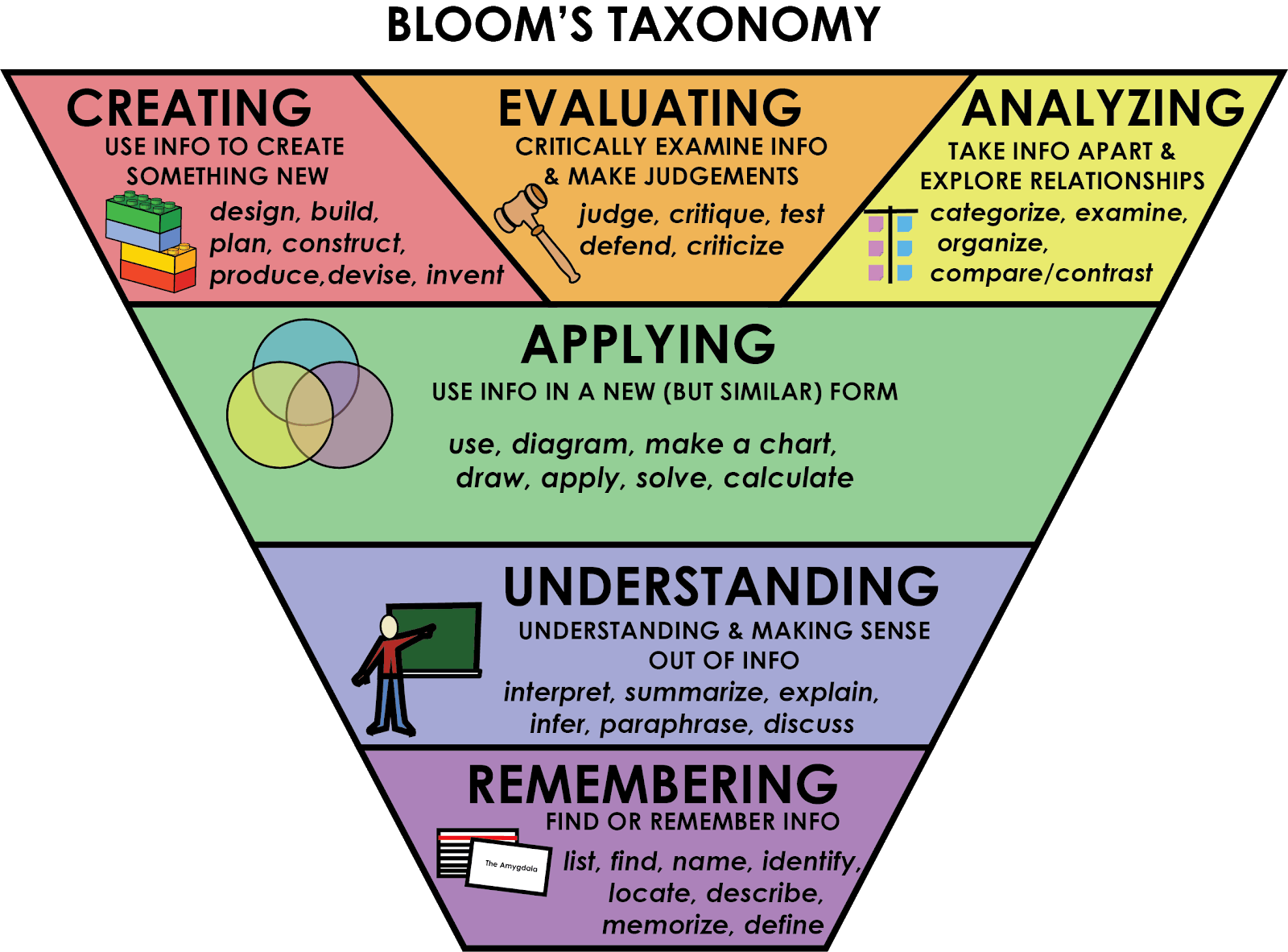 Image credit: Rawia Inaim
In the context of an online course, learning designers might encourage higher-order thinking by asking learners to come up with a unique way to solve a problem specific to their field or industry.
In a training course for workplace health and safety, learners might be presented with a potentially dangerous scenario and asked to explain what they would do to make it safe and meet the workplace health and safety requirements. The learners might then be encouraged to share their thoughts with each other and use communication tools to discuss the differences in their responses.
The benefits of developing higher-order thinking skills
For learning and development professionals and organisation leaders alike, understanding which courses or activity types will help learners to develop higher-order thinking skills is beneficial at both an employee and organisational level.
More than ever in the digital era, employees are required to use their knowledge to create, innovate or design to add value. If they are trained in how to develop these skills through workplace training, the learning will be all the more valuable.
Here, we explore the broader benefits for organisations when they choose to focus on developing higher-order thinking skills with their staff:
1. Participants build skills for creativity and innovation
The ability to create and innovate are amongst the most important skills required of employees today. As technology advances, both organisations and employees need to adapt to the rapidly changing environment in order to keep up with the pace.
While the ability to think creatively and innovate comes naturally to some people, for others the skill needs to be developed. Unfortunately, as creative thinking is not currently a focus in schools, many new graduates enter the workforce without having been encouraged to use these skills at school. This becomes an issue when they enter the fast-paced modern workplace, and feel unprepared.
2. Learning becomes more interesting
When learners are encouraged to engage with higher-order thinking skills, this requires far more of their attention and utilises more of their brain capacity. As a result, learners are more engaged in professional development, and online learning courses which implement these activity types are often far more applicable in real-life scenarios.
Better engagement in workplace learning has also been linked to retention of staff. Staff retention is a problem across organisations in the modern workplace, and this has a direct impact on productivity.
3. Increased potential for innovation within organisations
When employees engage with learning tasks that give them the confidence to be innovative, the potential for new ideas within an organisation will quickly develop across the ecosystem.
As technology progresses forward at a faster and faster rate, the ability to innovate will become a key advantage for organisations to remain competitive in the market. Already, those who can quickly adapt as the market shifts are more likely to survive digital transformation.
4. Learners build transferable skills for real-life scenarios
When learners are engaged with higher-order thinking skills through online courses, they will also be more likely to apply this knowledge after the training is over. Learning tasks which encourage divergent thinking develop skills which can be applied to a broad range of situations, and are not bound by specific topics or the requirements of a job role.
5. More opportunities for collaborative learning 
Learning activities which encourage higher-order thinking are often more conducive to employees working collaboratively. While finding ways for learners to work together can be challenging with online learning, tools such as discussion boards and information sharing do allow for participants to share their ideas during the learning process.
A one stop shop for all things training, Ceelso makes it easy to compare the best training options available, and find the right resources for your professional development, compliance and business training needs.
With Ceelso's GO1 Premium plan you'll have unlimited access to a growing library containing thousands of learning resources, from top training providers around the world – all in one easy subscription